PLAYLIST
Video Podcasts
View more in this playlist
Next Up In:
Video Podcasts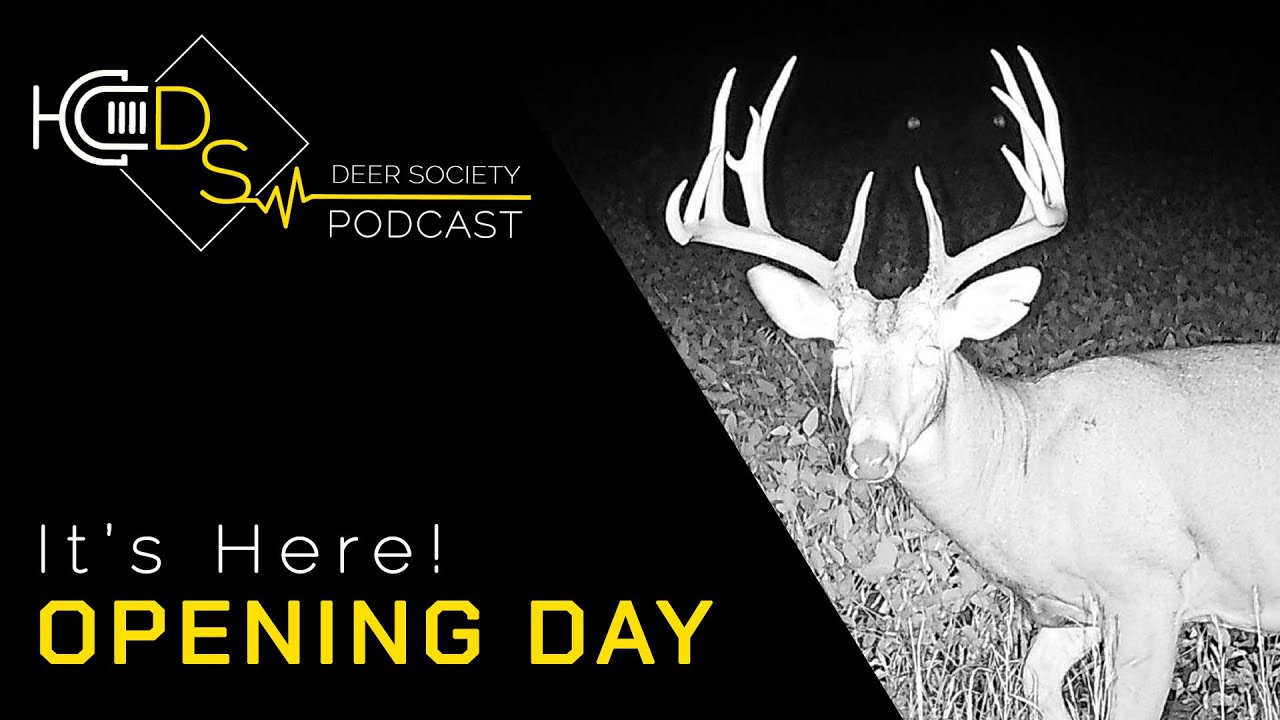 OPENING DAY | TACTICS for the Upcoming DAYS and WEEKS...
Brought to you by Illusion Hunting Systems
Share
Details
Opening day of archery season has arrived for a few of the Deer Society team members! Today we dive into our current hunting strategies and tactics for the upcoming days....
Black Rack & Extinguisher Combo (Black)
BUY NOW
Early Season Q&A #2 | Big Buck Hunting NOW!
Early Season Deer Hunting, Q&A Part#2! 
We hope you enjoy this Q&A podcast and if you have topics you want us to cover, please leave a comment or question on our social channels! Early Season is HERE, good luck to you all. 
WHERE are the BIG BUCKS?! Here is our take...
This week Bryan is joined by JJ and Mike 
Dukart
 as they dive deep into
 advanced Hunting Strategies and Tactics that relate to this time of the year. Where are ALL of the Big Bucks? 
Here is 
our
take
...
Pre-Rut Hunting Tactics | The Big Bucks have ARRIVED!
We have been waiting... The BIG BUCKS have FINALLY arrived! In this episode of the Deer Society podcast we are gearing up for the Pre-Rut and discussing our favorite tactics and strategies for the upcoming weeks! 
Pre-Rut SUCCESS | Detailing of our most RECENT Hunts!
Big Bucks hitting the GROUND and a few close encounters!
Post-Rut TACTICS | Where should you hunt NOW?!
As we wrap up the RUT we share some of the successful hunts we've had and 
discuss the post-rut TACTICS we will be
deploying in
 the coming weeks! 
325 inches of SUCCESS and Strategy!
"Little Splitter" and "Skyscraper" are on the ground and the Whitetails from Scratch property is on the board in a BIG WAY! The DS crew breaks down these two hunts and cover post-rut and late season tactics for the upcoming weeks!  
Shed Hunting 101 | HOW to find More Sheds this year...
Ready... Set... Shed Hunt! 
In this podcast we cover ALL things shed hunting. When, Where, Why and How we find the most shed antlers. We hope you can take something away from our strategies and tactics discussion and can use some of this information as you hit this field this year in search of freshly dropped antlers. Good luck!
FRESH Sheds | We are on the BOARD!
Bryan is on the board with a few giant FRESH antlers from his trip to Kansas and the Minnesota crew is patiently waiting for the right time to make their move on their local bucks still carrying antlers. 
SPRING WORK | Habitat - Scouting - Strategy
Spring has sprung! This week's podcast is all about our spring habitat checklists. As we wrap up shed hunting season, it's now time to utilize all of the intel we gathered over the past few weeks to implement the habitat improvements that will pay off this fall.
AGING DEER | How OLD is this Buck??
This week Dan Coffman joins us in the Deer Society studio to discuss the hot topic of Aging Deer. Is it possible to accurately age a buck based on his antlers or his body size? Here is our take...
A look back at SUCCESS! | Whitetails from Scratch podcast
Andy Orr joins us in the Deer Society podcast studio for a detailed recap of the Whitetails from Scratch project. We take a look at back at our habitat plans, past success, and some BIG future improvements as we inch closer to the 2022 deer season!
STACKED Habitat Systems | Water, Food Plots, Timber & MORE!
In this week's podcast, Andy Orr of Advanced Whitetail Systems joins us in the podcast studio to discuss ALL THINGS Whitetail Habitat! Water holes, food plots, timber work and much more. We hope you enjoy this in-depth whitetail "habitat stacking" discussion and can take away a few ideas that will take your hunting spot to the NEXT LEVEL in the future!
ALL things (Fall) Food Plots - WHEN and HOW to plant..
This week we are diving into ALL THINGS relating to fall-planted Food Plots! We breakdown the seed blends and varieties we have tried and recommend, some new varieties we are currently testing, and walk through the different methods that can be used to can plant ALL of these plot options! We hope you enjoy this information-packed, fall food plot podcast!
Woodsmanship - Reading Land, Maps, Sign to FIND Big Bucks...
With decades of experience as a logger and timber buyer, Ben sits down with the DS team and breaks down some of the crucial elements he takes into account when targeting mature whitetails.
PROVEN Strategies - Calling, Rattling, Scent Control w/ Ben Rising
Ben Rising joins us in the Deer Society podcast studio for a full on deep dive into the specific calling, rattling and scent control tactics he has used for decades to fool dozens of Boone and Crockett whitetails.
SCRAPE TACTICS - Scent Communication 101 for Whitetails
This week we are joined by Jeremy Moore of HODAG/Dog Bone to discuss the advanced tactics and strategies he uses to create mock scrapes, licking branches and hemp ropes community hubs. Topics covered this week include Scrapes, Scent Communication, Tracking Dogs, and Scent Control.
Pre-Season Wrap | It's time to SHIFT your priorities...
As deer seasons open up across the country, it's time to shift our priorities! This week we discuss final plans for our hunting locations, highlight the projects we've been working on at the Whitetails From Scratch property and preview our 2022 deer hunting plans. Buckle up, it's time!
Tracking Deer 101 - REAL WORLD Examples and Trailing Tactics...
This week we are joined by Dan Coffman to dive deep into our strategies, tactics and real world examples of tracking a deer after the hit. We hope you enjoy this podcast and can take something from it that will help you be more successful in the field this season!
Early Season "Buck-Shift" | The FINAL Countdown & Hunting Strategies...
The 2022 deer season is upon us OR will be soon! Today in the Deer Society studio we sit down and discuss the early season buck shift and provide updates on the final adjustments we are making as we transition into the deer hunting season.
OPENING DAY | TACTICS for the Upcoming DAYS and WEEKS...
Opening day of archery season has arrived for a few of the Deer Society team members! Today we dive into our current hunting strategies and tactics for the upcoming days. We hope you all enjoy the podcast and good luck to everyone headed to a stand this weekend!
Get Alerts When New Videos Are Added!
×